SPECIFICATIONS
REG. NO.   V23189 ACT36 / 1947
TYPE: MUESLI
SUITABLE FOR: RACING AND PERFORMANCE HORSES IN MEDIUM/INTENSE WORK
40kg bags
Store in a cool, dry area, out of direct, sunlight under a roof. Store off the ground on pallets. This product has a shelf life of 6 months from manufacture date.
PRODUCT DESCRIPTION
Epol Race Muesli is a highly palatable, textured muesli feed formulated with the performance horse in mind.
It provides readily available energy through the use of high quality oats combined with additional cereals to meet the requirements of anaerobic metabolism during periods of fast work.
The Race Muesli also has an oil content of 4.5% to increase the energy density of the diet and provide additional non-heating energy.  Maximised small intestinal digestibility allows for efficient absorption and utilisation of the nutrients into the bloodstream, leading to increased stamina and reduced recovery times.
Our excellent quality protein sources include essential amino acids to promote superb muscle tone, function and tissue development and repair.
For our Muesli we use a Combination of fibre sources, such as Lucerne to provide highly digestible fibre for slow release energy and healthy gut function, which is of particular importance to the racehorse in peak fitness and at times of stress, such as travelling and racing. Lucerne also has the added bonus of having an acid buffering capacity to assist horses with gastric ulcers.
This product is fully fortified with the Vitamins and minerals needed to assist with recovery and performance of the top equine athlete. This includes a full profile of B vitamins to stimulate energy metabolism and appetite, and biotin for healthy hoof growth. Vitamin E, Vitamin C and selenium are included to enhance the immune system and neutralize free radicals, reducing muscle soreness and cell damage.
Our Race Muesli meets  the requirements of the equine athlete, keeping horses performing at top levels, while remaining muscle sound, eating up and clinically healthy.
FEEDING GUIDELINES
Feeding horses correctly requires a good eye and careful monitoring of your horse's individual needs, condition and behaviour. We therefore suggest you contact us directly for personalised feeding advice.
Contact Leigh Adams +27 83 998 6824 / Debbie Dick +27 76 755 5164
The Race Muesli is designed to be fed alongside good quality roughage such as hay and/ or pasture. Roughage which should be fed at an absolute minimum of 1% of body weight per day (5kg for a 500kg horse).
Always ensure the minimum roughage requirement is met and then adjust the amount of feed depending on condition and workload. Meal sizes should preferably be limited to between 2 and 2.5 kg per feeding.
Depending on the workload, age, size, condition and quality of the available roughage, it is recommended that 6kg-8kg of the Race Muesli is fed per day .
It is very important to ensure that the horse is fed the correct portion of food by weight, not by volume! All feeds have different densities and thus do not weigh the same. Therefore, it is very important to establish exactly what weight (kg) your scoop holds of the specific product you are feeding.
Always introduce any new feed or product over a period of 7-14days and ensure fresh water is available at all times.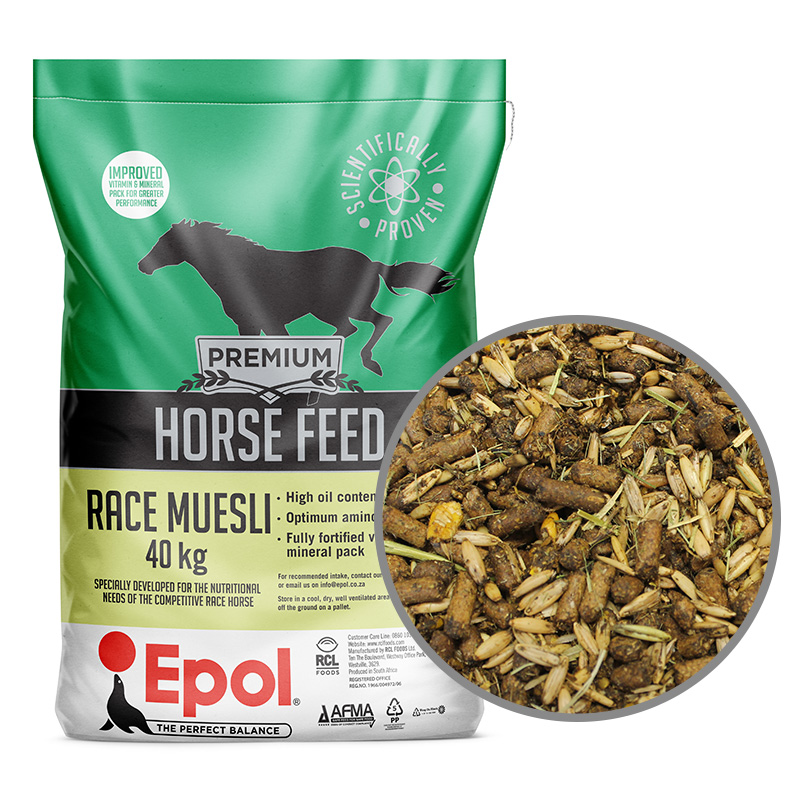 NUTRITIONAL SPECIFICATIONS
| | |
| --- | --- |
| Moisture % (MAX) | 12 |
| Protein % (MIN) | 14 |
| DE (MJ) (MIN) | 12.7 |
| Fat % (MIN) | 4.5 |
| Fibre % (MAX) | 12 |
| Starch (MIN) | 30 |
| Starch (MAX) | 30 |
| Calcium % (MIN) | 0.9 |
| Calcium % (MAX) | 1.5 |
| Phosphorus % (MIN) | 0.5 |
| Vitamin A | 11000 |
| Vitamin D3 | 1600 |
| Vitamin E | 220 |
| Vitamin K | 2.5 |
| Vitamin B1 | 10 |
| Vitamin B2 | 11 |
| Vitamin B6 | 3.3 |
| Vitamin B12 | 0.033 |
| Folic Acid | 3.3 |
| Niacin | 33 |
| Panto | 13.2 |
| Choline | 351.54 |
| Biotin | 0.300 |
| Vitamin C | 200 |
| MN | 62 |
| ZN | 110 |
| CU | 45 |
| CU ORG | 7.5 |
| I | 0.50 |
| SE | 0.50 |
| SE ORG | 0.25 |
| CO | 1 |
| CR ORG | 1 |
| Anti Oxidants | 125 |