SPECIFICATIONS
REG. NO.  V23190 ACT36 / 1947
TYPE: MUESLI
SUITABLE FOR: STUD HORSES THAT ARE ALSO WORKING
40kg bags
Store in a cool, dry area, out of direct, sunlight under a roof. Store off the ground on pallets. This product has a shelf life of 6 months from manufacture date.
PRODUCT DESCRIPTION
The Epol Stud Muesli is a palatable, top quality, nutrient dense all-round mix for pregnant and lactating broodmares, growing foals and young stock, as well as working stallions.
Its scientific formulation ensures optimum nutritional support. High quality protein with key essential amino acids, aid in foetal bone, muscle and tissue development, while adequate digestible energy levels are provided for growth and sufficient milk production.
We have ensured that this feed contains a specifically designed vitamin and mineral profile to provide optimum micronutrient support for the mare and the developing skeletal structure of the foal.
Calcium, phosphorus and magnesium are provided to support lactation and gestation in mares, and build strong bones in the offspring, in combination with balanced copper, manganese and zinc levels. Vit E and selenium also assist in increasing passive transfer of antibodies to foals via the colostrum, and boost fertility in mares.
FEEDING GUIDELINES
Feeding horses correctly requires a good eye and careful monitoring of your horse's individual needs, condition and behaviour. We therefore suggest you contact us directly for personalised feeding advice.
Contact Leigh Adams +27 83 998 6824 / Debbie Dick +27 76 755 5164
The Stud Muesli is designed to be fed alongside good quality hay and/ or pasture.
To ensure a healthy gut, good quality forage should be provided at 1.5% of bodyweight per day (7.5kg for a 500kg horse) , with an absolute minimum of 1%.
Always ensure the minimum roughage requirement is met and then adjust the amount of feed depending on condition and workload. Meal sizes should preferably be limited to between 2 and 2.5 kg per feeding.
Total daily feed (concentrate + roughage) should be 2-3% of bodyweight depending on age, temperament and climate, and should be adjusted to suit the individual.
With this in mind and depending on the workload, age, condition and quality of the available roughage, the average adult horse would require between 0.5% and 1.2% of body weight per day (e.g 500 kg horse would need between 2.5 and 6kg of concentrate per day depending on daily needs).
It is very important to ensure that the horse is fed the correct portion of food by weight, not by volume! All feeds have different densities and thus do not weigh the same. Therefore, it is very important to establish exactly what weight (kg) your scoop holds of the specific product you are feeding.
Always introduce any new feed or product over a period of 7-14days and ensure fresh water is always available.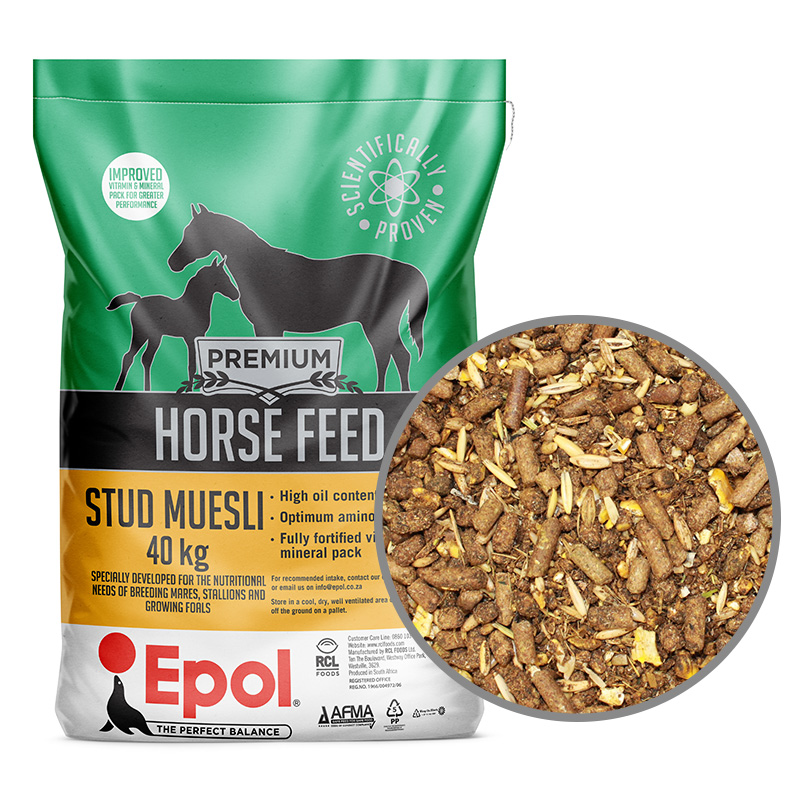 NUTRITIONAL SPECIFICATIONS
| | |
| --- | --- |
| Moisture % (MAX) | 12 |
| Protein % (MIN) | 14 |
| DE (MJ) (MIN) | 12 |
| Fat % (MIN) | 4.5 |
| Fibre % (MAX) | 12 |
| Starch (MIN) | 24 |
| Starch (MAX) | 26 |
| Calcium % (MIN) | 0.9 |
| Calcium % (MAX) | 1.5 |
| Phosphorus % (MIN) | 0.5 |
| Vitamin A | 11000 |
| Vitamin D3 | 1600 |
| Vitamin E | 220 |
| Vitamin K | 2.5 |
| Vitamin B1 | 10 |
| Vitamin B2 | 11 |
| Vitamin B6 | 3.3 |
| Vitamin B12 | 0.033 |
| Folic Acid | 3.3 |
| Niacin | 33 |
| Panto | 13.2 |
| Choline | 351.54 |
| Biotin | 0.300 |
| Vitamin C | 0 |
| MN | 62 |
| ZN | 110 |
| CU | 45 |
| CU ORG | 7.5 |
| I | 0.50 |
| SE | 0.7245 |
| SE ORG | 0.4745 |
| CO | 1 |
| CR ORG | 1 |
| Anti Oxidants | 125 |