SPECIFICATIONS
REG. NO. V21360 ACT36 / 1947
TYPE: CUBES
SUITABLE FOR: HORSES AND PONIES IN MAINTENANCE/LIGHT WORK OR FOR ADDING EXTRA FIBRE INTO THE DIET
40kg bags
Store in a cool, dry area, out of direct, sunlight under a roof. Store off the ground on pallets. This product has a shelf life of 6 months from manufacture date.
PRODUCT DESCRIPTION
Equus Nice 'n Easy offers many applications ranging from a consistent quality forage supplement to an ideal feed solution for good doers or horses on box rest requiring maintenance feeding, or those not needing a traditional concentrate but still wanting something in their feed bowls.
These high fibre cubes can be used as a partial hay replacer in rations for all classes of horses and is also ideal for stretching available hay in times of hay scarcity or when the quality of available roughage is not desirable.
All the essential vitamins and minerals are provided as well as added oils making it a very suitable maintenance ration especially for good doers with low activity. Yea-Sacc 1026 ® is also provided for optimal digestive support.
Nice n Easy is also suitable for dentally challenged equines (and can easily be soaked) as well as those not able to consume long stemmed roughage.
When using Nice n Easy to replace a significant portion of a horse's hay intake, they should preferably be given in small, regular meals to ensure a steady intake of fibre and to encourage chewing and promote healthy digestion.
Additional advantages of using Nice 'n Easy:
Reduced feed wastage – very little waste occurs with pellets as compared to the 20% or more wastage with long-stemmed hays.
Consistent and maximum nutrient quality – pellets are manufactured under rigid quality control standards and must meet product nutrient guarantees.
Avoiding dust and mould spores – minimizes exposure to harmful dust and mould spores compared to long-stemmed hays which can be useful for horses with respiratory issues.
FEEDING GUIDELINES
Feeding horses correctly requires a good eye and careful monitoring of your horse's individual needs, condition and behaviour. We therefore suggest you contact us directly for personalised feeding advice.
Contact Hannah Botha +27 73 423 5491 / Leigh Adams +27 83 998 6824 / Debbie Dick +27 76 755 5164
Nice 'n Easy is classified as a roughage supplement and is designed as a partial hay replacer to stretch hay in times of scarcity or to improve the quality of the total roughage portion when general hay quality is low.
Note: Nice 'n Easy must never be used to replace long stemmed hay completely ! It is advisable that a minimum of 1% of body mass (0.5% in extreme circumstances) of long stemmed hay be available at all times, even if it's of lower nutritional value. Effective long fibres are essential for optimum digestive health and the importance of the long fibre outweighs the importance of the quality.
If you are using another concentrate and are feeding Nice n Easy to enhance your hay/ grazing then the average 500kg horse (depending on the quality of your hay and grazing) will need between
0.2-0.5% of body weight per day for maintenance/light work (1-2.5kg per day)
0.5-0.7% of body weight per day for medium level work (2.5-3.5kg)
However upwards of 1.5% of body weight per day can be fed if long stemmed roughage is in extremely short supply or if you need to use Equus Nice 'n Easy as your horses predominant roughage source.
If you are looking to feed Nice n Easy as a maintenance diet for horses not in work or those needing a calorie controlled diet, then the average 500kg horse would need between 0.25-0.75% of body weight (1.25- 3.75kg) per day with ad lib hay and/or grazing.
A balancer may need to be used alongside this, for those feeding small amounts, so be sure to chat to one of our advisors to ensure you are feeding the correct amounts for your horse.
It is very important to ensure that your horse is fed the correct portion of food by weight, not by volume! All feeds have different densities and thus do not weigh the same. Therefore, it is very important to establish exactly what weight (kg) your scoop holds of the specific product you are feeding.
Always introduce any new feed or product over a period of 7-14days and ensure fresh water is always available.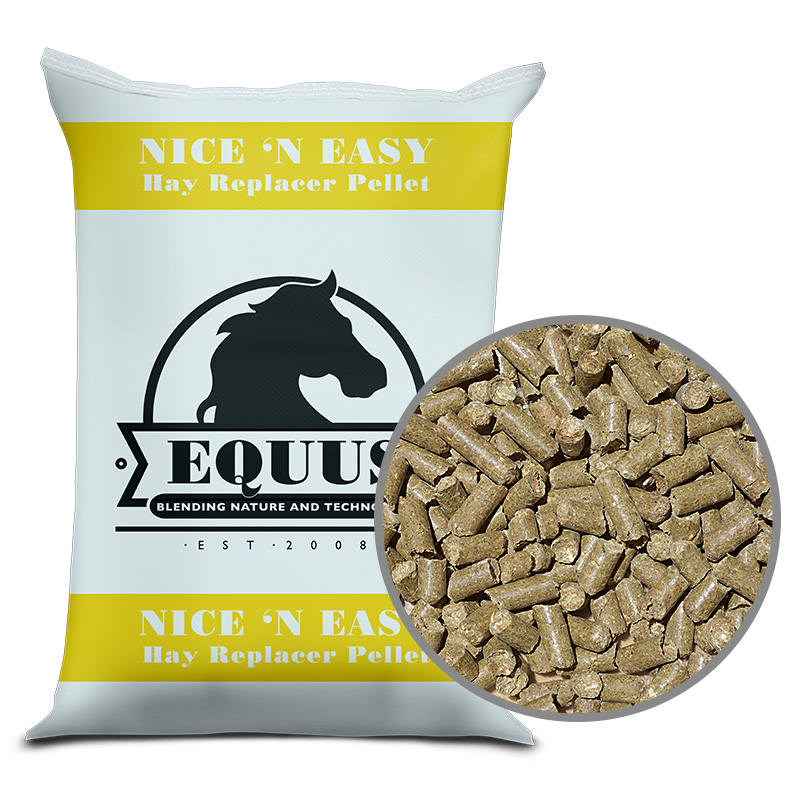 NUTRITIONAL SPECIFICATIONS
| | |
| --- | --- |
| Moisture % (MAX) | 0 |
| Protein % (MIN) | 9 |
| DE (MJ) (MIN) | 11.3 |
| Fat % (MIN) | 2 |
| Fat % (MAX) | 0 |
| Fibre % (MIN) | 18 |
| Fibre % (MAX) | 24 |
| Starch (MIN) | 10 |
| Starch (MAX) | 20 |
| Calcium % (MIN) | 0.24 |
| Calcium % (MAX) | 0.4 |
| Phosphorus % (MIN) | 0.2 |
| Phosphorus % (MAX) | 0.6 |
| Vitamin A | 11000 |
| Vitamin D3 | 1600 |
| Vitamin E | 220 |
| Vitamin K | 2.5 |
| Vitamin B1 | 10 |
| Vitamin B2 | 11 |
| Vitamin B6 | 3.3 |
| Vitamin B12 | 0.033 |
| Folic Acid | 3.3 |
| Niacin | 33 |
| Panto | 13.2 |
| Choline | 0 |
| Betaine | 0 |
| Biotin | 0.300 |
| Vitamin C | 0 |
| MN | 62 |
| ZN | 110 |
| CU | 37.5 |
| CU ORG | 0 |
| FE | 0 |
| I | 0.50 |
| SE | 0.50 |
| SE ORG | 0.25 |
| CO | 1 |
| MO | 0 |
| CR ORG | 1 |
| Anti Oxidants | 125 |