SPECIFICATIONS
REG. NO. V22230 ACT36 / 1947
TYPE: PELLETS
SUITABLE FOR: COMPETITION HORSES IN MEDIUM/HARD WORK
40kg bags
Store in a cool, dry area, out of direct, sunlight under a roof. Store off the ground on pallets. This product has a shelf life of 6 months from manufacture date.
PRODUCT DESCRIPTION
The Epol Endurance horse cubes were initially designed with the endurance horse in mind. However, its success was immediate and it soon found its way into other disciplines like Eventing, Polo, Polo-Crosse and Show Jumping, where it comes in very handy during long days of continuous events which often lead to a drop, or the eventual depletion, of energy stores. The Endurance cubes assist in maintaining sustained energy to ensure  the event can be completed successfully.
The endurance horse cubes are unique in the fact that they provide a controlled well balanced energy release. It does this by combining high levels of fat (8%), with a combination of cereal grains, to ensure that both slow release (Low Gi) and fast release (High GI) supplies are available as and when the horse may need it throughout the event. The high fat content also assists with skin and coat condition.
High protein diets can increase body heat, urine production and water needs, all of which are not ideal for the endurance horse. Therefore, the Endurance cubes have been specifically designed with a low Protein content, however they contain very high-quality protein which ensures the essential amino acids, critical for muscle repair during strenuous events, are provided.
Digestive support is provided to ensure overall health and wellbeing.
A full range of vitamins and minerals are included to ensure that this product covers the nutritional requirements of the class of horse for which this product is intended. Vitamin E, Vitamin C and Selenium are provided for anti-oxidant support for a healthy immune system, keeping horses performing at their best with no further need for additional vitamins and minerals if fed at recommended levels.
FEEDING GUIDELINES
Feeding horses correctly requires a good eye and careful monitoring of your horse's individual needs, condition and behaviour. We therefore suggest you contact us directly for personalised feeding advice.
Contact Hannah Botha +27 73 423 5491 / Leigh Adams +27 83 998 6824 / Debbie Dick +27 76 755 5164
Competition cubes should only ever be used to supplement good quality hay and/ or pasture.
To ensure a healthy gut, good quality forage should be provided at 1.5% of bodyweight per day (7.5kg for a 500kg horse) , with an absolute minimum of 1% if calories need to be restricted.
Always ensure the minimum roughage requirement is met and then adjust the amount of feed depending on condition and workload. Meal sizes should preferably be limited to between 2 and 2.5 kg per feeding.
Depending on the workload, age, condition and quality of the available roughage, the average horse will require between 0.75% and 1.2% of body weight per day (e.g the average 500 kg horse will need between 3.75 and 6kg of concentrate per day depending on daily needs).
It is very important to ensure that your horse is fed the correct portion of food by weight, not by volume! All feeds have different densities and thus do not weigh the same. Therefore it is very important to establish exactly what weight (kg) your scoop holds of the specific product you are feeding.
Always introduce any new feed or product over a period of 7-14days and ensure fresh water is always available.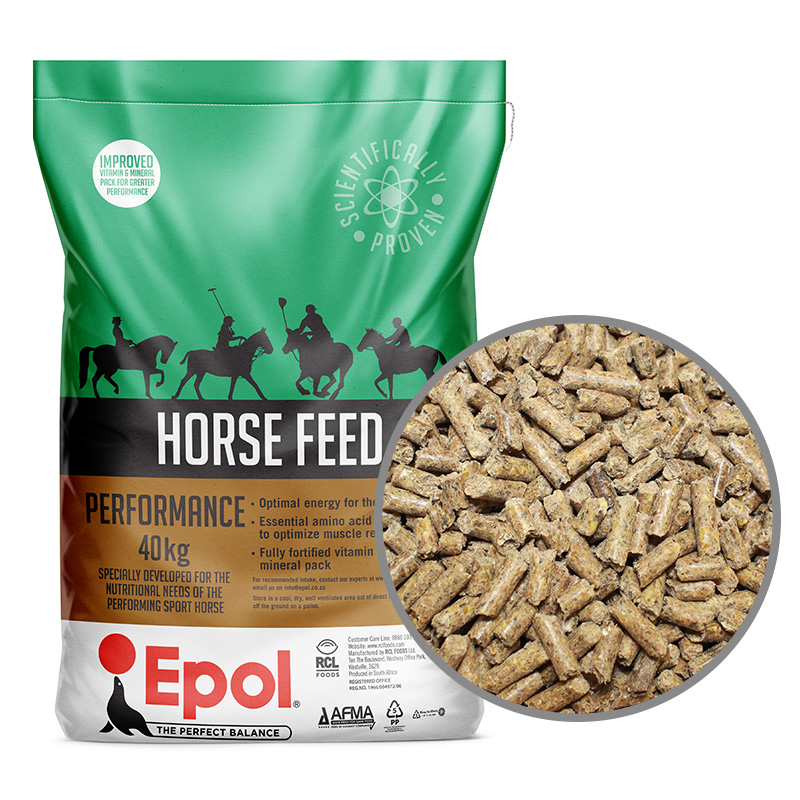 NUTRITIONAL SPECIFICATIONS
| | |
| --- | --- |
| Moisture % (MAX) | 12 |
| Protein % (MIN) | 10 |
| DE (MJ) (MIN) | 13 |
| Fat % (MIN) | 8 |
| Fibre % (MAX) | 12 |
| Starch (MIN) | 21 |
| Starch (MAX) | 25 |
| Calcium % (MIN) | 1 |
| Calcium % (MAX) | 1.2 |
| Phosphorus % (MIN) | 0.6 |
| Vitamin A | 11000 |
| Vitamin D3 | 1600 |
| Vitamin E | 320 |
| Vitamin K | 2.5 |
| Vitamin B1 | 10 |
| Vitamin B2 | 11 |
| Vitamin B6 | 3.3 |
| Vitamin B12 | 0.033 |
| Folic Acid | 3.3 |
| Niacin | 33 |
| Panto | 13.2 |
| Choline | 351.54 |
| Biotin | 0.300 |
| Vitamin C | 0 |
| MN | 62 |
| ZN | 110 |
| CU | 37.5 |
| CU ORG | 0 |
| I | 0.50 |
| SE | 0.50 |
| SE ORG | 0.25 |
| CO | 1 |
| CR ORG | 1 |
| Anti Oxidants | 125 |